The goot Brand
Turning ideas into quality
To support the world's manufacturing
You may not have used a soldering iron. But it is an indispensable tool in our modern society.
They connect the wires and components in all kinds of electrical products, from home appliances to smartphones.
We want to touch our customers' hearts. That's the meaning of "goot" in Japanese!
We at TAIYO ELECTRIC IND. CO., LTD. are proud to be a top manufacturer, responsible for 60% of the 2 million soldering irons produced annually in Japan. Founded in 1965, we did not exactly have an early start. There were many older, bigger, established manufacturers. We had to be quick and nimble!
Our co-founder and former president, Itaru Fujii (1926-2008), said:
"We want to create products that will touch our customers' hearts."
Our founder was a farm boy. He and his parents worked hard. Japan's economy was also growing quickly. The young man felt a sense of crisis and ambition. "How can we ever compete with the vast farmlands they have in other countries? Where can we compete?"
He thought hard, and finally came up with soldering irons.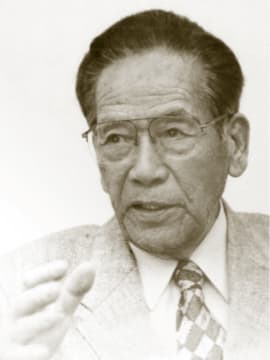 Co-founder Itaru Fujii (1926 -2008)
Struggle Day and Night
At that time, however, soldering irons were not what they are today. The copper tips oxidized and deteriorated in a day. The heaters were inefficient. Parts had to be replaced daily.
Itaru Fujii started the company together with his brother-in-law. Brother-in-law, as president, worked day and night on product development. Itaru, as managing director, worked on sales. He wanted to provide customers with soldering irons that had a long life, heated up quickly, and could be used immediately. Clearly, improvements were needed. But innovative products are not born every day. The first priority? "Get the tip hot fast!"
First he tried covering the heater with a tight copper pipe. It warmed up fast, but the copper tip quickly wore out and left the heater exposed. Next he tried putting a brass cap on the tip. But the solder and brass blended, and it soon became unusable. Due to these early failures he lost the trust of his wholesaler. He lost his whole sales channel!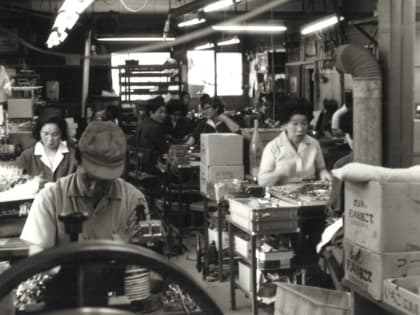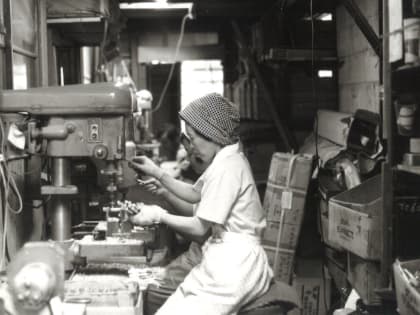 The Cast-in Soldering Iron to the Rescue!
The "cast-in soldering iron" rescued the company. The epoch-making product had a heater cast in aluminum. It was more durable than conventional products, and "ready to use." Itaru sold it himself, on street corners in Akihabara, Tokyo, Osaka, Fukuoka, and other cities. Thanks to the product's excellent quality, manufacturers offered contracts one after another. It was our first big hit. Our reputation for long-lasting, lifetime products spread throughout the country. Itaru and his brother-in-law felt they were on the right track.
This was the next catalyst. It could be used immediately. You just plugged it in, and turned the temperature to High or Low. This was the ancestor of the current soldering iron. "Eighty percent of professional electricians were using it at the time." recalled the former president.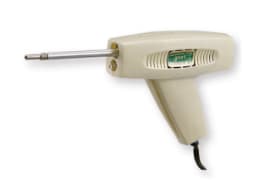 Gun-type quick-heat soldering iron
Supporting Manufacturing Worldwide
Our company evolved and established a solid reputation by responding quickly to the changing needs of the soldering industry.
Over fifty years have passed. Our trademark "goot" still reflects Itaru's wishes. "We want to create products that will touch the hearts of our customers." We have taken his words to heart, expanding our sales channels to 60 countries. Our products are highly evaluated at home and overseas.
Soldering is performed in a wide variety of temperatures and materials. As a company, we aim to support manufacturers worldwide by providing them with everything they need, from the simplest hand tools to state-of-the-art robots, and everything in between.