DIGITALLY CONTROLLED AUTOMATIC SOLDER FEEDER
FD-180
Manage solder feed length and soldering time digitally.

Can be interlocked with external equipment by External input / output function
*FD-180G, V-groove unit, and Nozzle are sold separately. Solder in this image is also not included.
Separatable Main Unit and Touch-panel
Ideal for cell production and incorporation into automatic processes.

External Input / Output Terminals
For interlocking with Poka-Yoke jig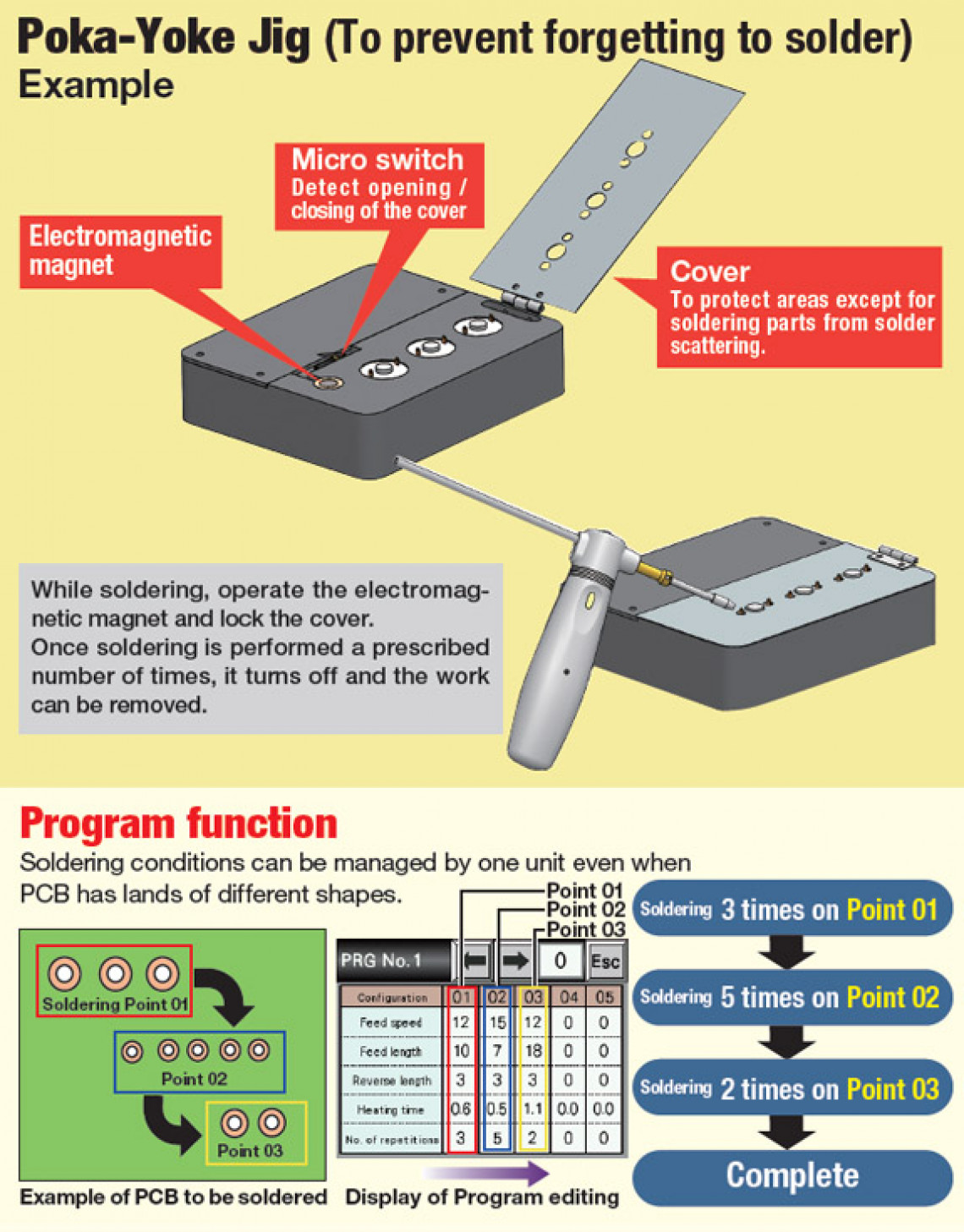 Solder-splash Prevention V-groove Function (Unit exchange type)
V-groove processing enables flux gasses to escape, reducing scattering of solder and flux which is a cause of defects.
Input Number by Touch Panel
Intuitive operation with touch panel is possible. You can manage solder feed length and soldering time digitally.
Product Specifications
Model
FD-180
Power Supply Voltage
100-240V AC 50/60Hz
V-groove Function
Available
Power Consumption
20W
Power Cord Length
1.5m inlet type
Applicable Solder Diameter
φ0.6, 0.8, 1.0, 1.2, 1.6 Allowing Lead-free
Solder Feed Speed
1-50mm/ sec
Solder Feed Amount
400mm (Max.)
Reversed Solder Speed
1-50mm/ sec
Reversed Solder Amount
30mm (Max. )
Program Capacity
Max. 30 programs
Condition of Solder Feed
Max. 30 kinds per 1 program
Language
Japanese / English / Chinese
Size
Feeder Unit
100 (W) × 270 (H) × 163 (D) mm
Touch Panel
153 (W) × 125 (H) × 72 (D) mm
Weight
Feeder Unit
2.8kg (w/o cord)
Touch Panel
1.0kg (w/o cord)