HOT-AIR REWORK STATION
XFC-301
Equipped with Auto Profile Mode. Handles BGAs, CSPs and all SMDs using the preheater.
XFC-301 Features
- Either Auto profile or Repeat Profile function (PAT.).
- 5 zone profiles available:
PREHEAT 1, PREHEAT 2, PREHEAT 3, REFLOW, and COOL.
- Up to 19 profiles* can be saved for each of the 5 zones.
- One profile can be registered for HAND Mode.
- Accurate PID temperature control.
- Heater and Vacuum switches located on the handpiece for easy control.
- ON/OFF interface with Preheater (connection cable optional).
- Keypad Lock and Offset functions.
- Instant cool down on all zones by pressing the COOL key.
*Separate profiles with specific temperature and time settings can be pre-programmed for each of the 5 zones.
XFC Series Features Table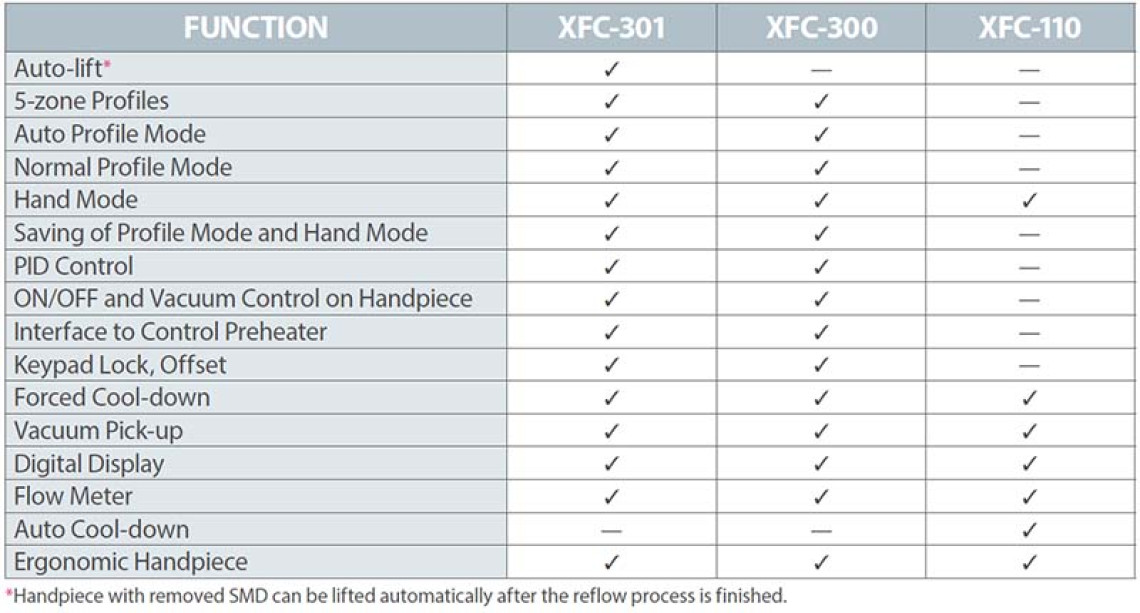 Modes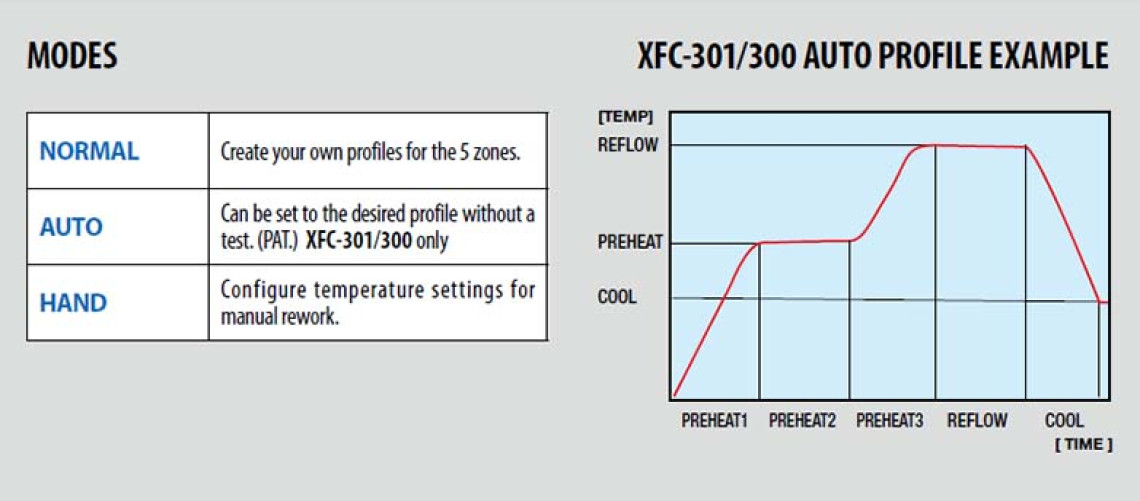 XFC Series Optional Nozzles (PAT.)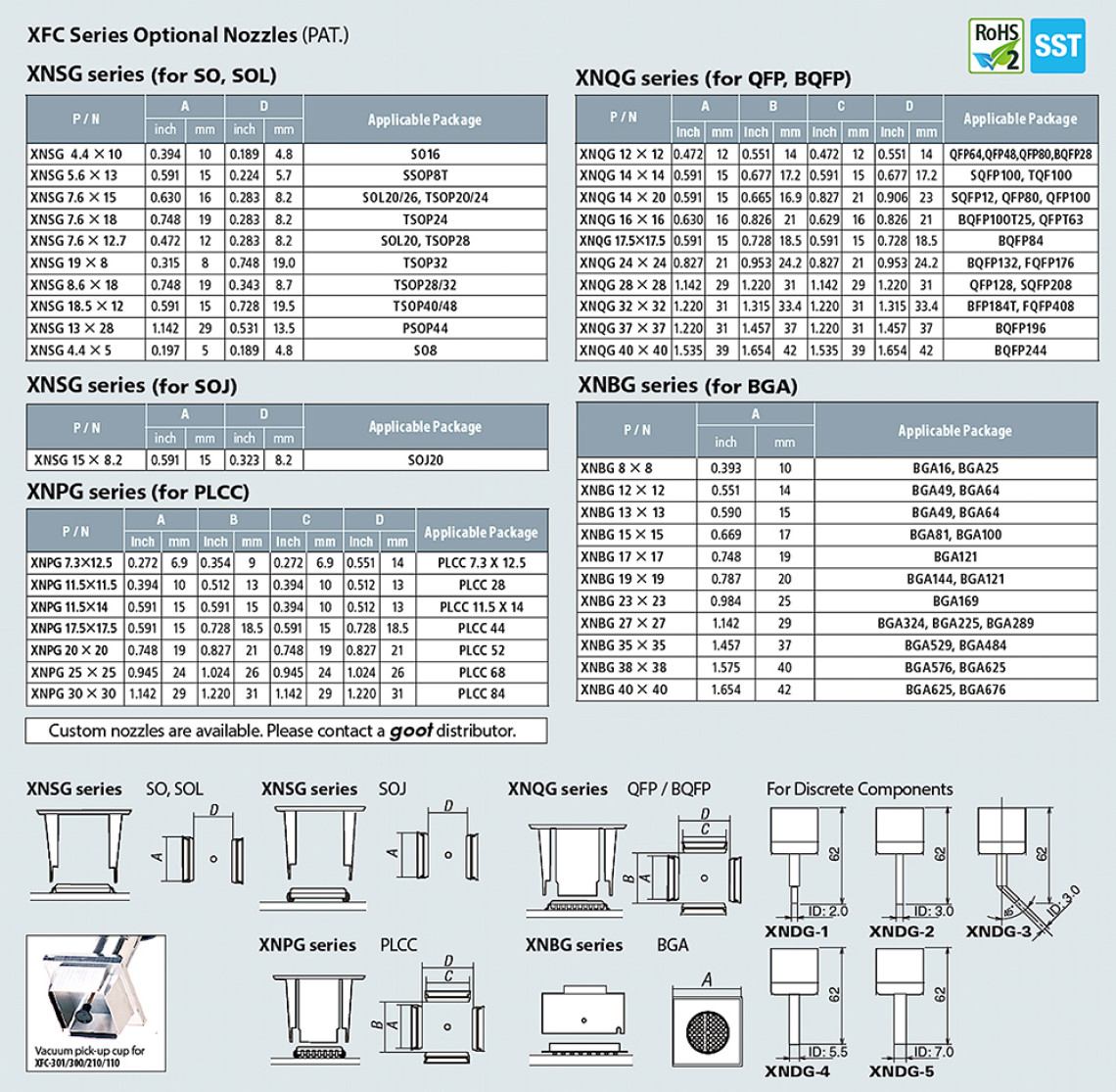 Product Specifications
Specifications
Model
XFC-301
XFC-300
XFC-110
Voltage
220 – 240V AC 50/60Hz
220V, 230V, 240V AC 50/60Hz
Power Consumption
400 – 460W
470W
Power Cord Length
1.5m Inlet type
Temperature Setting Range
50 – 550°C
150 – 550°C
Insulation Resistance
Over 10MΩ (500V DC)
Station Unit
Model
XFC-301
XFC-300
XFC-110
Output Voltage
220 – 240V AC
220V, 230V, 240V AC
Air flow Meter
Equipped
Air flow Volume
5 – 25L /min
5 – 25L /min
Auto-lift function
Included
–
Modes
3 (Profile-Normal, Profile-Auto, Hand)
1 (Hand)
Temperature Profiles
5 Zones (Temperature and Time)
–
Profile Memory
( Auto, Normal )×19, HAND×1
–
Dimensions
200(W) × 230(H) × 265(D)mm
182(W) × 179(H) × 263(D)mm
Weight
7.6kg ( w/o cord )
7.8kg ( w/o cord )
Accessory
Connection Cable with Preheater, Handpiece Holder,
XVCW-SET
Handpiece Holder, XVCW-SET
Handpiece Unit
Model
XFC-301
XFC-300
XFC-110
Voltage
220 – 240V AC
220V, 230V, 240V AC
Power Consumption
370 – 430W
400W
Heater
Nichrome Heater
Hose length between Handpiece and Control Unit
1m
Vacuum Pickup
Integrated into Handpiece
Length
220mm (w/o cord)
Weight
180g (w/o nozzle, cord)